Butter Wrap
Our finishes for butter wrapping are resilient to grease, cold and humidity, and they don't split or tear as the butter gets re-wrapped. Oh, they look fantastic, too. Butterly amazing.
Premium, glossy finishes for butter wrap that are resilient to the chill of the chiller cabinet (and the heat of the competition).
Finding the right  finishing solution for butter wrapping can sometimes be challenging: it has to be resilient to grease, cold and humid environments as well as being flexible enough to fold and refold (without tearing) as the butter gets smaller.
And of course, butter wrap doesn't just protect your product before it's consumed – it has to look great in order to beat tough competition in the chiller cabinet, too.  
Packle's solution for butter packaging can help brands like yours attain the wrapping looks you love, without giving up the protective qualities your product needs. Our finishes for butter pack are captivating (think glossy, matte or metallic looks), and are ideal for use in the harsh environment of the fridge – you don't have to worry about humidity or low temperatures adversely affecting your wrapping.
Our finishes are also it's robust enough to be folded again and again without tearing or splitting, so you can relax knowing that your wrapping looks great from the moment of purchase to the moment when it's discarded, too.
Packle's solution for butter wrap is attractive and durable which makes it ideal for leading brands today (not that we're trying to butter you up, or anything).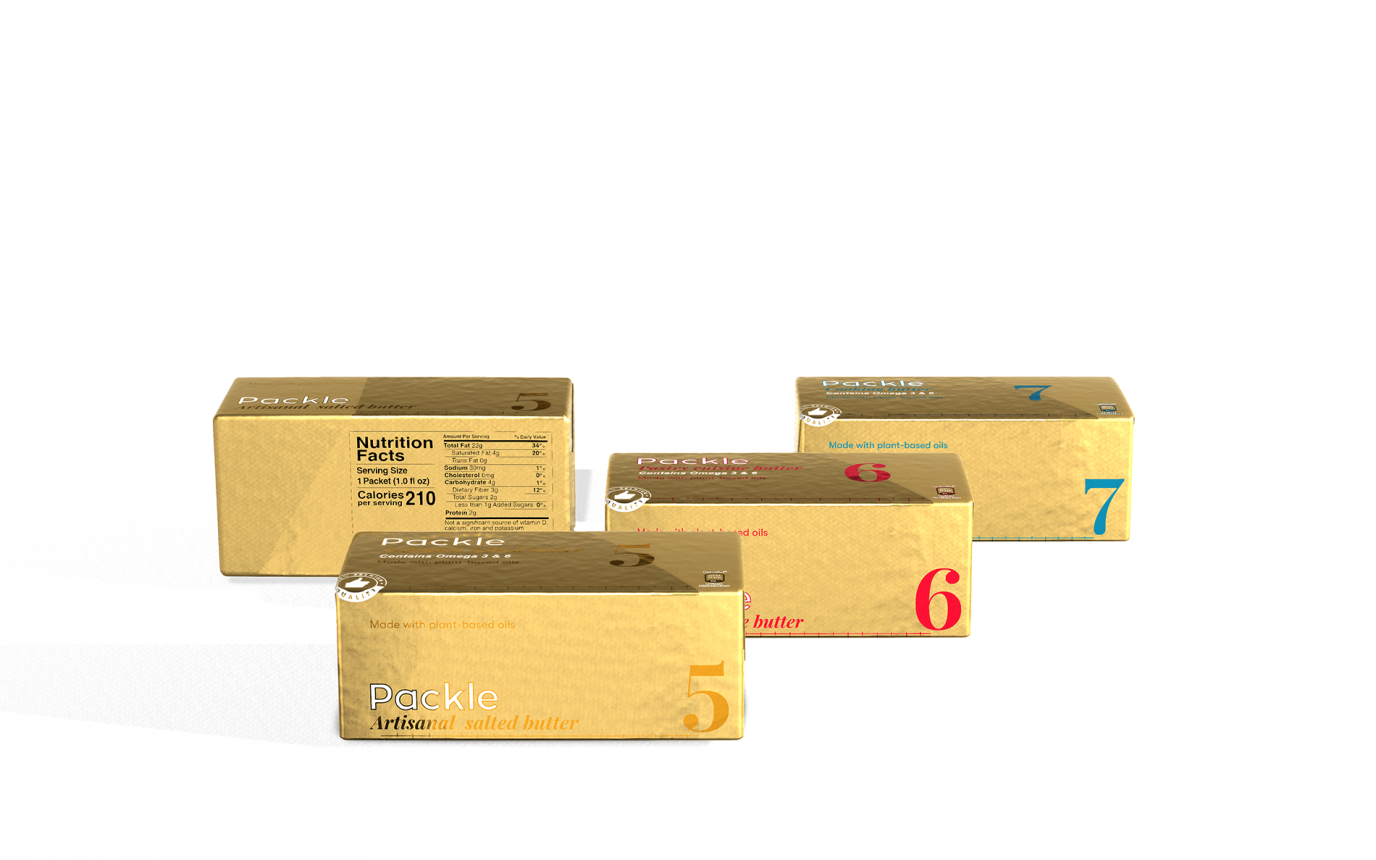 Functional
At the same time as looking great, our finishes for butter wrap are robust enough to withstand a tough chilled environment
Our product can quickly and easily be set up on printing and converting machines, making it ideal for brands looking to produce butter wrap in a single location with separate print runs for separate languages
Appeal to eco-conscious customers: our finishes contain no hidden plastics
Ideal for mixture of bold colours and imagery, logos and text - all in excellent clarity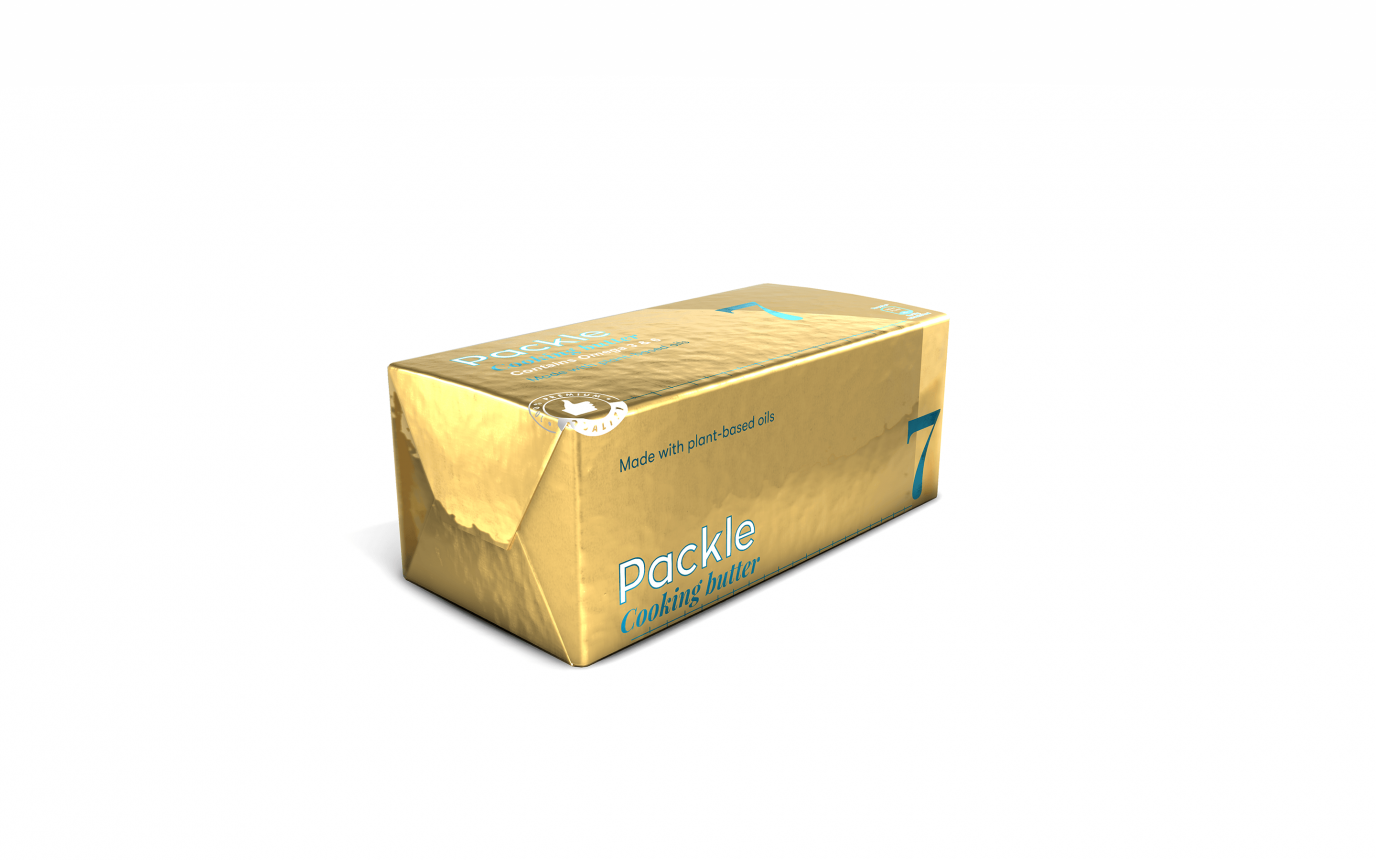 Stylish
Create contemporary and eye catching looks for butter wrap with a variety of finishes
Packle's product is easily adaptable for new product launches or seasonal promotions
Create unique and custom holographic finishes
Perfect for contemporary butter wrap finishes or traditional designs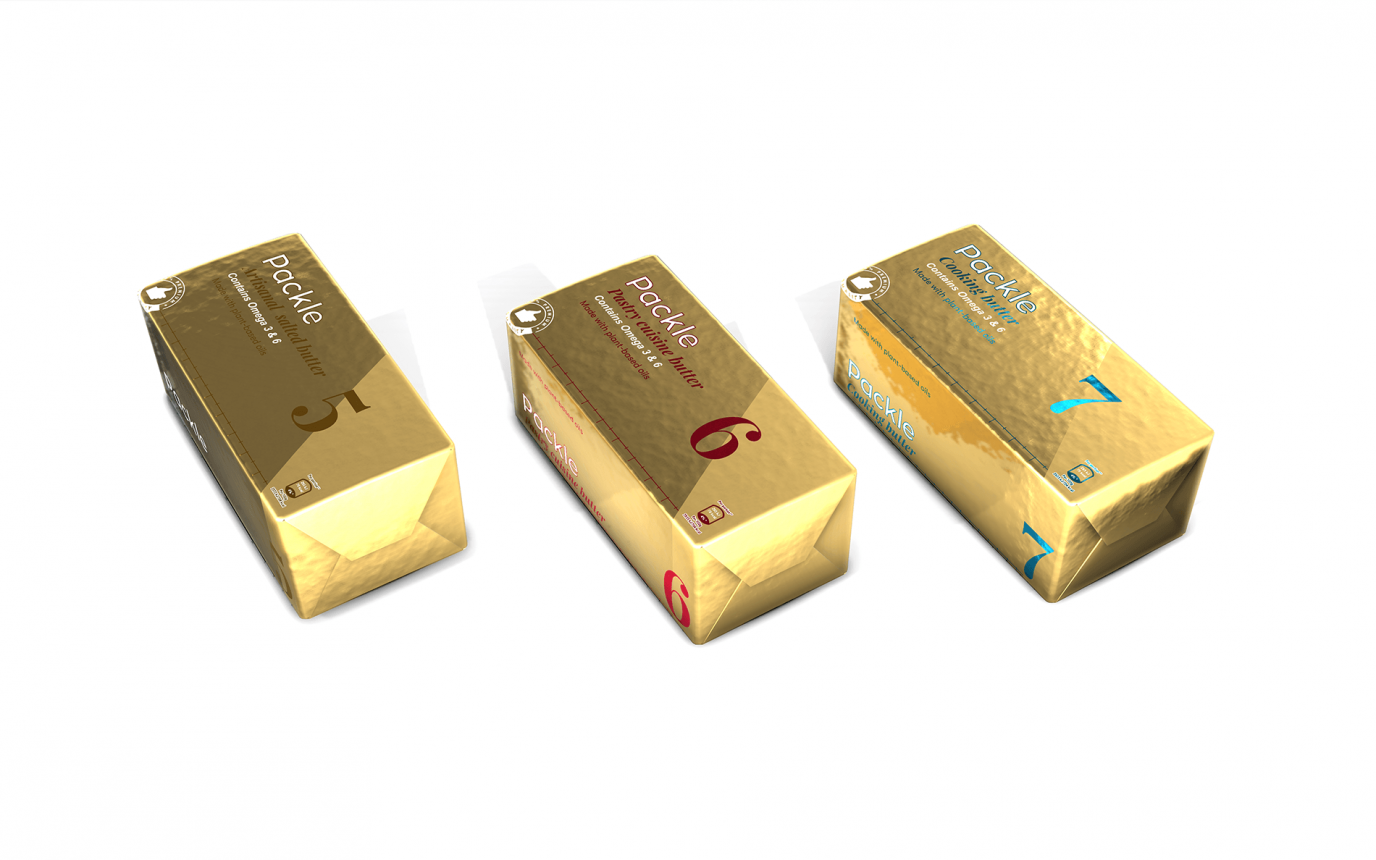 Technical
Despite it's resilience, our butter wrap is light and won't add extra weight or thickness to your product
Packle offers a solution for packaging that's print-ready, which means supply chains are shortened when compared to conventional packaging
Our product provides an excellent surface for printing imagery or text and is suited for all inks
Ink dries quickly on our product, which allows for a quick turnaround after printing
Why brands our Butter Wrap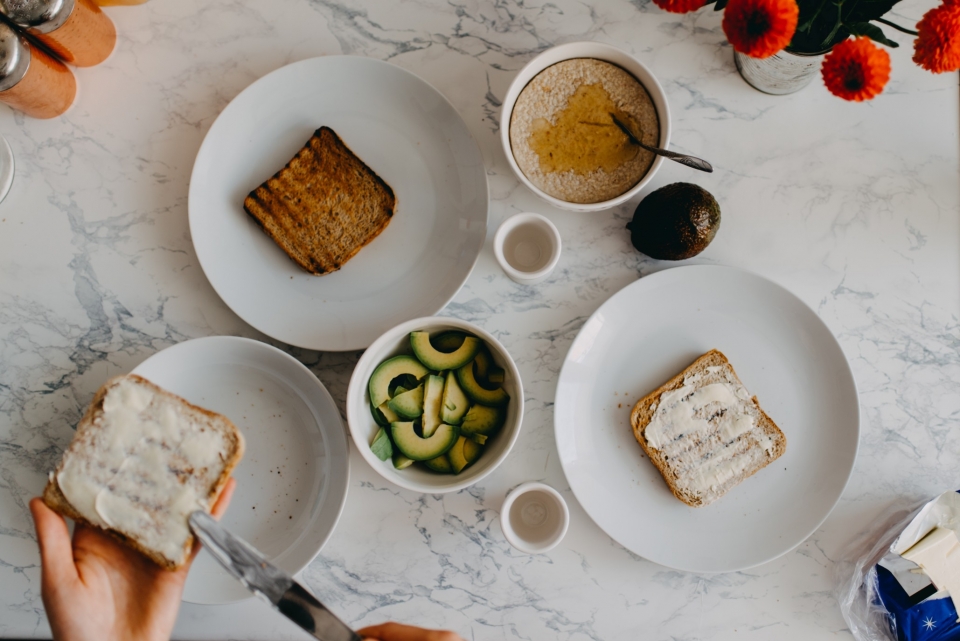 Designs as versatile as butter
From baking to spreading on toast, nothing's more versatile than butter. Luckily, our finishes are too, so you don't need to hold back your designs.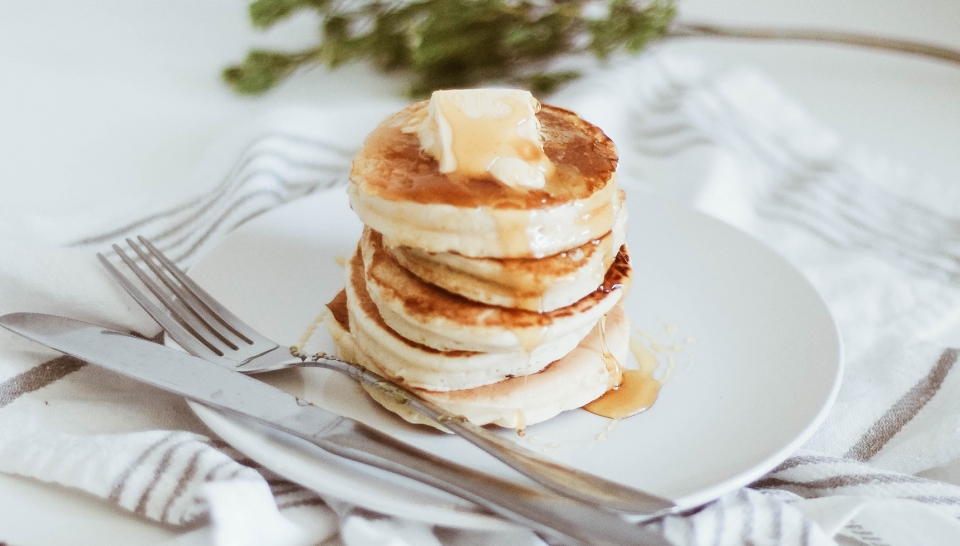 Flexible for folding
Our finishes for butter wrap are robust and durable, so they won't tear or break…however many times they're folded.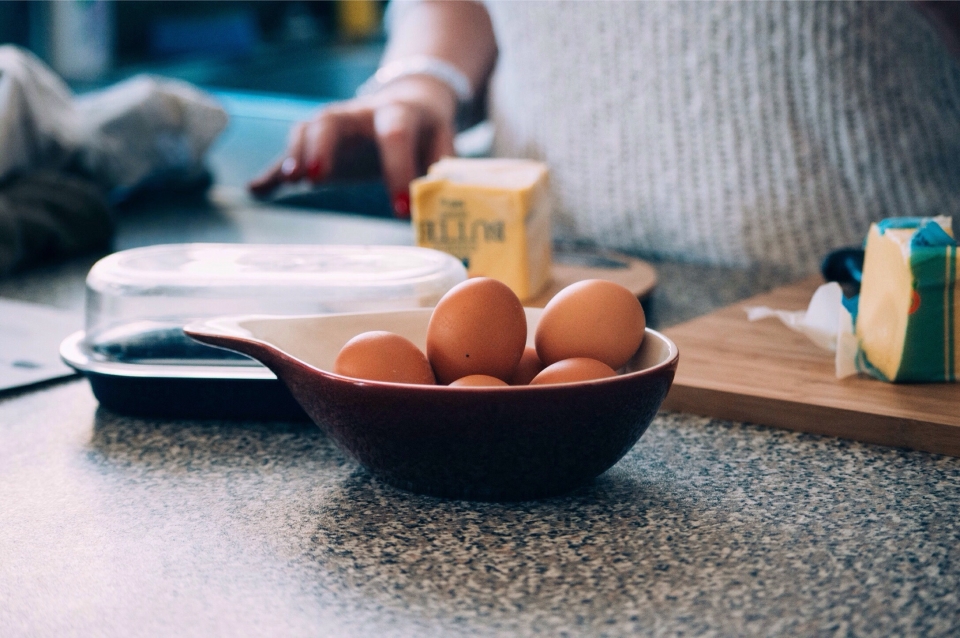 Robust and gorgeous
Not only do our finishes for butter wrap stand out from the crowd, they're robust too: that means they're resilient to moisture and low temperatures.
Specifications
| Index | Value |
| --- | --- |
| Packle Pro support | Included |
| Weight | 150 gr |
| Recommended metallic colors | |
| Custom Colors | |
| Available in UltraShine | |
| Available in Holographic | |
| Available two sided coating | |
| Reverse gloss | |
| Print methods | Gravure, UV Offset, Flexography, Digital |
| Ink advice | included |
| Delivery | Rolls, sheets |
| Recyclable | 100% |
| Augmented Reality Prototype | On request |
| Other finishes and options | Contact us |
What's your story?
You want to be instagrammable. Packle has the right solution for you. Stand out from the crowd with sensorial experience and innovative design.